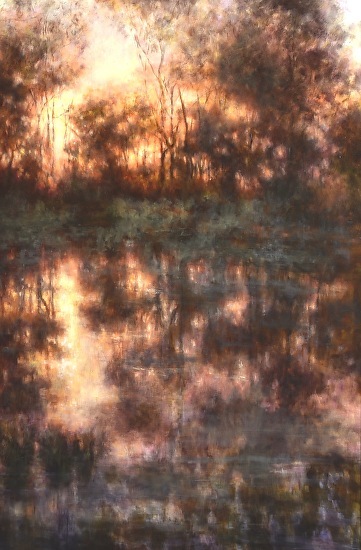 As you experience my website, you will notice that "Two sides of the same coin" are represented in my work. My passion for tonalistic realism in my landscapes (Tonal Realism Collection) is shared with the contemporary style expression of my American Indian Heritage (enrolled Ojibwe Indian, White Earth, MN) (Expressive Heritage Collection). Both collections are wonderfully exciting and challenging for me.
Each collection employs similar methods of layering and glazing, but differ in palette color choices and paint application. I am drawn to paint low country marshes and wetlands and have done this for over 25 years. As a self-proclaimed student of American Indian history, I am totally enthused about depicting the American Indian Spirit Night Dancers. In both styles of painting, the difficulty is in capturing the spirit of the event, - a sunrise or sunset is not just beautiful but has a spiritual quality; the contemporary Expressive Heritage Collection dancing figures are not just beautiful, but have a story to tell, the essence of themselves.
As you peruse my online art portfolio, you will also find a Small Works Collection which are smaller than 8 x 10, and are not located in the other two portfolio collections.
Feel free to join my email list on the Contact the Artist page. You can also visit my Facebook page: Judy Fuller Fine Art at https://www.facebook.com/judyfuller.artist.painter where you can receive my newsletter by clicking the "newsletter" tab. Thank you for "Liking" and "sharing" on Facebook.
Enjoy your tour of my website and experience of my works.